Queen's Nutrition - Now Online!
We've just launched our new website, bringing our great product selection online. We're adding new products daily, so if you don't see your favorites today, check back tomorrow or give us a call to see if we have it in stock: (610) 691-6644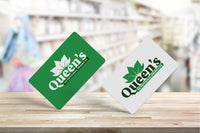 Gift Cards Available Online
It's now easier than ever to purchase a Queen's gift card and send it to someone you appreciate.
Purchase A Gift Card
Location
Visit Our Retail Store
1450 Pennsylvania Avenue
Allentown, PA 18109
(610) 691-6644